T: 780-623-1747
Lac La Biche County maintains dozens of outdoor areas for public use, including beaches and boat launches, parks and playgrounds, skating rinks and walking trails. The County also hangs decorative banners, hanging floral baskets and holiday decorations on major streets in the community.
In addition, the municipality maintains Willow Park Cemetery in the hamlet of Lac La Biche.
Notable Parks
McArthur Park and Paul Richard Memorial Spray Park
McArthur Park is located in a beautiful lakefront setting in the hamlet of Lac La Biche. The park includes a public beach, perfect for relaxing and swimming in the summer months. The area is home to the Paul Richard Memorial Spray Park, which is open from late May to early September and is free for the public to access. An adult exercise park and three baseball diamonds maintained by the County are just steps away as well.
The Lifejacket Loaner Station in McArthur Park opens May long weekend and closes after the September long weekend. Lifejackets are provided for the public to use free of charge, to help keep individuals safe in, on and around water.
Alexander Hamilton Park and Off-Leash Area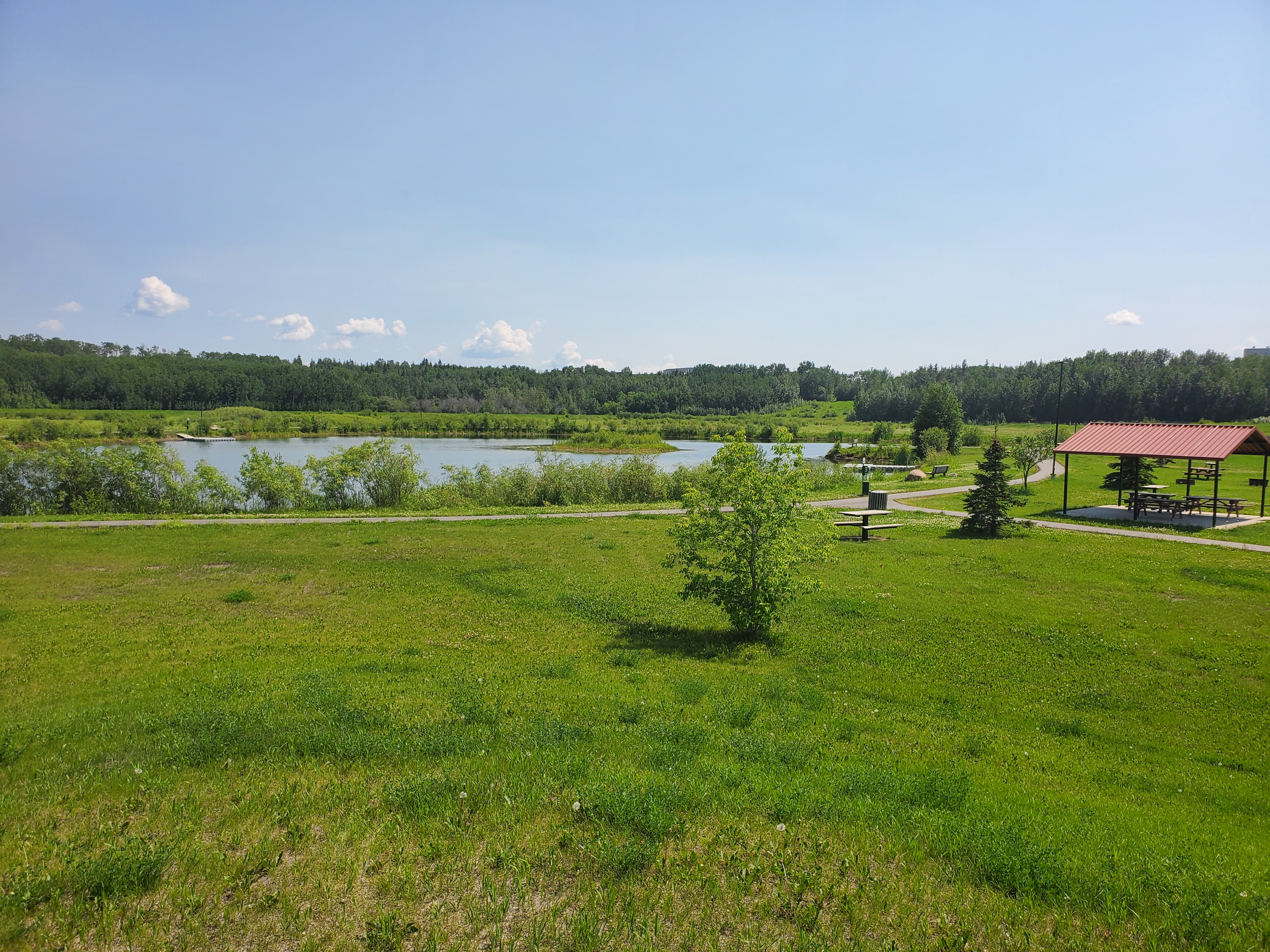 Alexander Hamilton Park
The entrance to Alexander Hamilton Park is on Lakeland Drive, at the eastern edge of the hamlet of Lac La Biche. The park contains a picnic shelter, the County's Community Garden, and a pond stocked with trout for fishing. In the winter an ice skating surface is offered.
Alexander Hamilton Park has also been designated as an off-leash area for dogs, so residents and their four-legged companions can all benefit. Dog owners are required to keep control of their pets at all times.
Dumasfield Park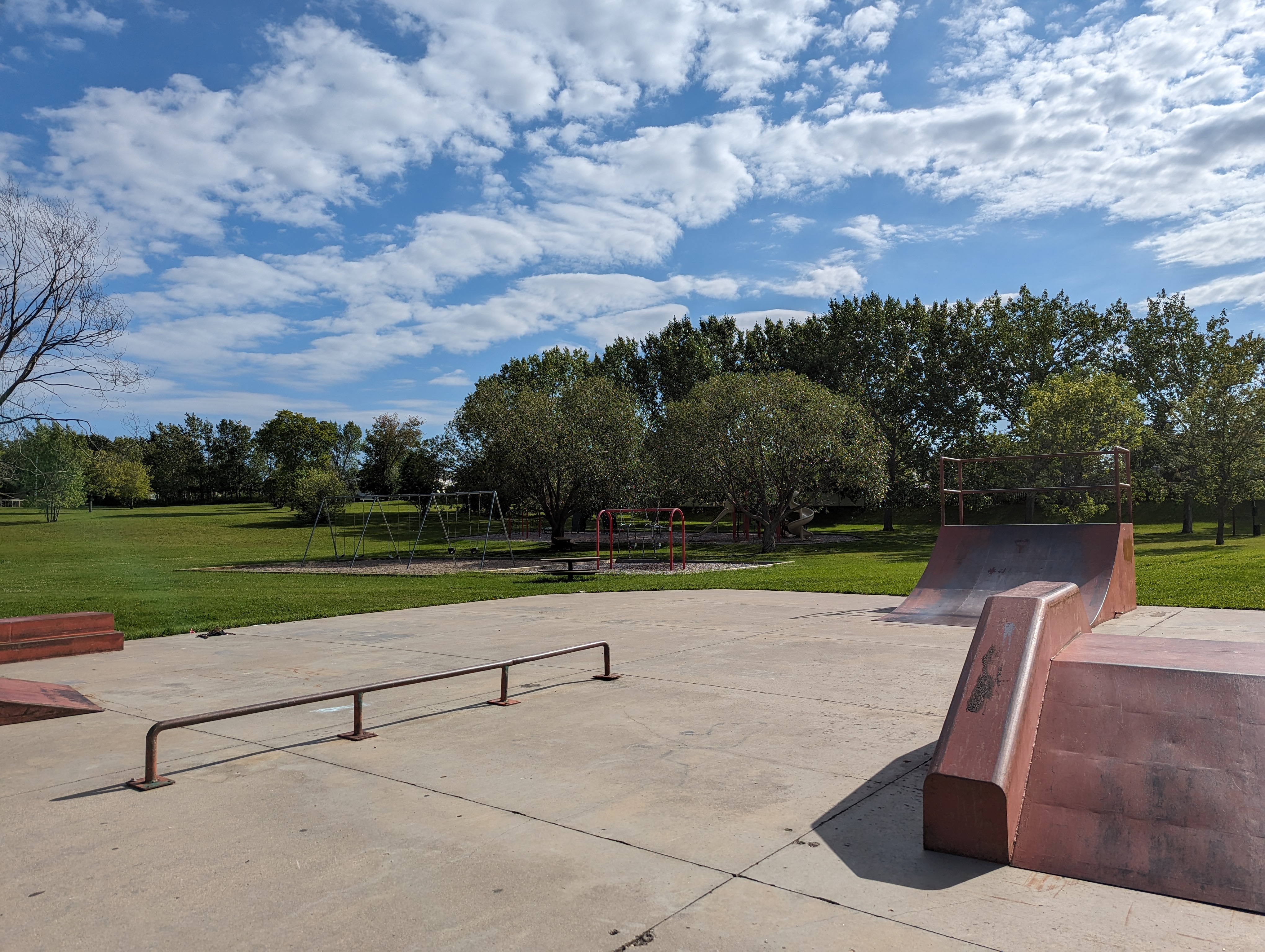 Dumasfield ParkDumasfield Park is located near the William J. Cadzow Health Centre and Portage College, on the corner of 94 Ave and 95 St. It's a beautiful park that features a playground and swing set for kids, a small skateboarding park, as well as an outdoor Basketball Court and hockey nets for floor hockey. It's a huge park with lots of areas for kids and families to enjoy an afternoon with various activities including many picnic tables to sit down and enjoy a nice lunch. Pets are welcome but are meant to be kept on a leash while at the park.
Jubilee Park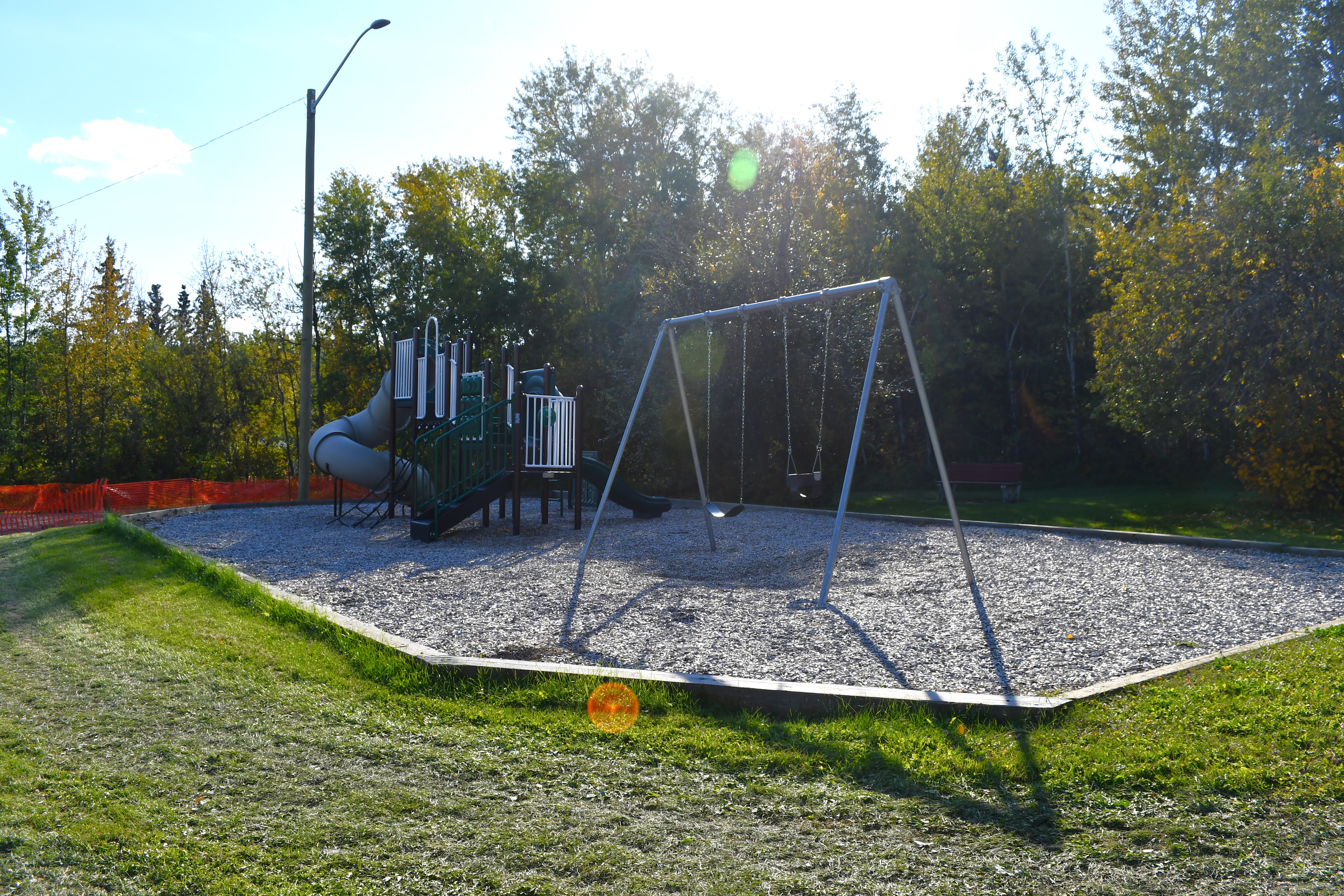 Jubilee ParkJubilee Park is a small playground located on Sonny Blvd in the Youngs Beach area of Lac La Biche. The park features a new playground, a few tables and benches, and a small field. As well, one of the Beaver Lake boat launches is just a few short steps away which can also make for a great photo backdrop.
Note: Construction will be starting soon on a small outdoor court at Jubilee Park that can be used for Basketball, or hockey, or an Ice Rink in the winter months.
Plamondon Festival Centre Park
Located right next to the Plamondon Festival Centre in the heart of Plamondon, this park has a wide range of features that are sure to make for a fun experience for pets and children! The park features a large playground and swing set, a Gazebo area including picnic tables, a beach volleyball court, two baseball diamonds, and a large open field. Dogs are certainly welcomed at the playground but must be kept on a leash.
Plamondon Whitesands Playground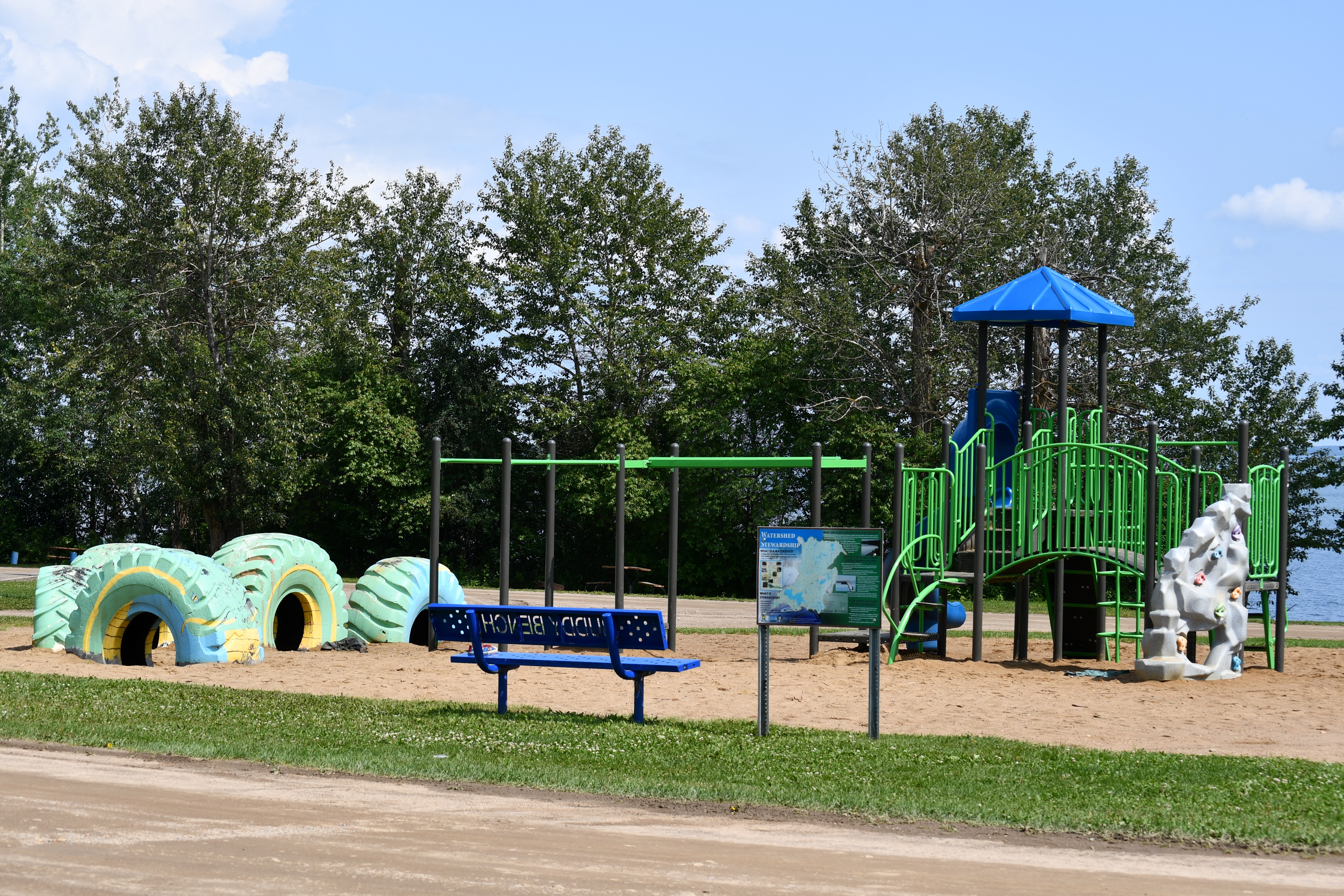 Plamondon Whitesands Playground
A small playground is located as soon as you enter the Plamondon Whitesands Resort Campground area. Along with the playground itself, the area features a volleyball court and a large field for pets. The playground area is also just a very short walk away from the resort's sandy beaches and designated swimming areas.
Sir Winston Churchill Provincial Park
Sir Winston Churchill PP actually features three separate playground/park locations, one located in the day-use area of the park, a playground located at Campers Beach on the overnight camping side of the island, and finally they also have a playground near the comfort camping section of park
The day-use playground features a very nice playground which also includes a tire swing, benches, a Gazebo area, and picnic tables, and the playground is located right next to the water for swimming. As well, the playground is right next to a number of the park's great walking trails that allow you to explore the interior of the park.
At Campers Beach, the playground section features a full size playground and tire swing set, a few benches in the area as well as picnic tables and firepits nearby. The playground is also conveniently located right next to the beach which makes it a great option for swimming as well when permitted.
Note: Please check with Alberta Parks staff in the area, online at albertaparks.ca, or check signage in the area to ensure the water is safe to swim in for humans and pets before getting in!
The third playground in the area is located at the comfort camping section of the park. This playground again features a full playset inside a large sandbox, a swing set, a small obstacle course, as well as benches and picnic tables to enjoy lunch, and a grassy field on a hilly to run and play.
Sunset Bay Park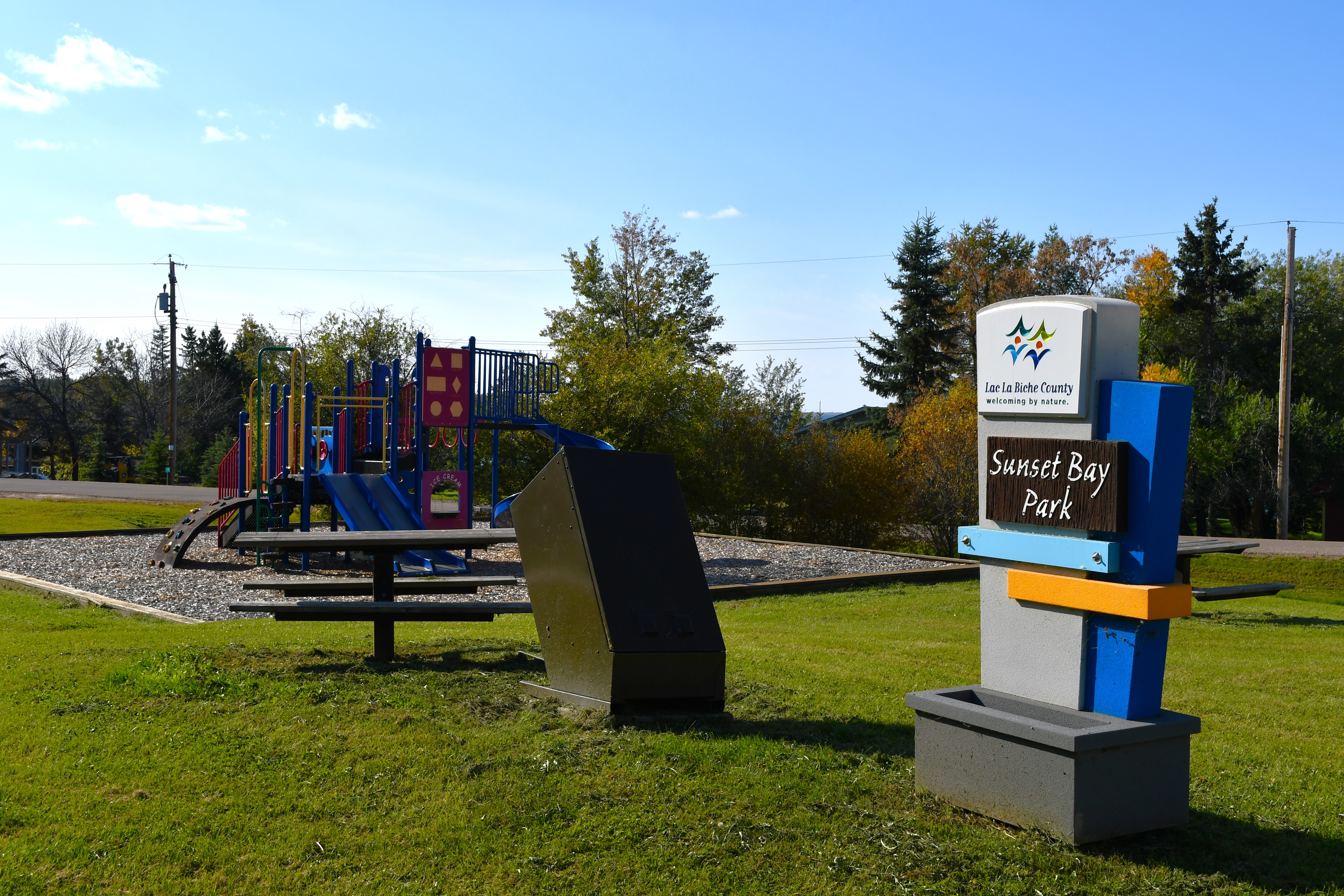 Sunset Bay ParkLocated just after turning off of Lakeland Drive into Sunset Bay, this small park features a playground, a couple of picnic tables, and a small grassy field for pets and children to run and play in.