2023 Land Use Bylaw Rewrite
Our current Land Use Bylaw (LUB) dates back to 2017, and it has been revised many times since then: it's now due for a full rewrite. Alberta's Municipal Government Act requires every municipality in the province to have a LUB for regulating development. Updating our LUB is a normal process that should happen every five to seven years, to help us keep up with the times and reduce red tape.
The first round of public consultation took place in the fall of 2022. A draft of the proposed rewritten LUB will be available for the public to review in the near future, and our Planning & Development team will organize a public open house as well as other feedback opportunities to hear from residents.
2023 Land Use Bylaw Quick Facts
Reviewing the Land Use Bylaw may add more uses for what residents can do on their property. The goal is to minimize red tape and make the development application process stress-free for our residents.
Lac La Biche County has contracted Beairsto & Associates Engineering and Survey to assist with this project.
Lac La Biche County and Beairsto & Associates are still compiling information to put together a first draft. Once prepared, this document will be shared with Council and the public.
A first round of Open House sessions were scheduled in early November 2022. The purpose was to gather information on what residents would like to see in the Land Use Bylaw.
Where we are at now: Planning & Development has reviewed a first draft of a potential revised Land Use Bylaw and suggested changes, and will review it again before presenting it to Council.
What comes next? All timelines are subject to change as this project continues.
Third quarter of 2023: Open houses will be scheduled for the public, and copies of the draft LUB will be available.
Late third quarter of 2023: Second round of open houses to be organized.
Early fourth quarter of 2023: Draft LUB to be presented to Council for first reading. Three readings are required for a bylaw to become official.
Late fourth quarter of 2023: LUB public hearing and potential adoption by Council, which may take place in early 2024.
How can you stay informed on the Land Use Bylaw re-write?
Lac La Biche County welcomes community members to stay in the loop on the Land Use Bylaw re-write and encourages residents to familiarize themselves with the current Land Use Bylaw (linked in full below).
Residents are invited to contribute to the project as it proceeds. Information about the project can be found here or by sending an email to PlanningDevelopment-LUB@laclabichecounty.com.
If you have any questions, or would like additional information, please contact Sheera Bourassa at 780-623-6744 or by email: sheera.bourassa@laclabichecounty.com.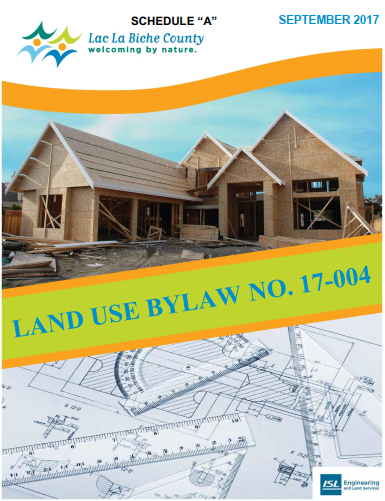 2017 Land Use Bylaw
We have broken the current Land Use Bylaw into smaller sections to make it more accessible online. Please click below on the part of the bylaw you wish to view:
Guide to Using the Land Use Bylaw
Part 3 - General and Special Land Use Districts
Part 4 - Development Processes
Part 6 - Overlays
Part 7 - Schedules (Click on Location to View)
Amendments to Bylaw 17-004
Land Use Bylaw Amendment Rezoning 17-010
Land Use Bylaw Amendment Rezoning 17-012
Land Use Bylaw Amendment Rezoning 17-014
Land Use Bylaw Amendment Rezoning 17-021
Land Use Bylaw Amendment Rezoning 17-027
Land Use Bylaw Amendment Rezoning 17-028
Land Use Bylaw Amendment Work Camps 18-006
Land Use Bylaw Amendment Rezoning 18-013
Land Use Bylaw Amendment Rezoning 18-014
Land Use Bylaw Amendment Rezoning 18-017
Land Use Bylaw Amendment Rezoning 18-019
Land Use Bylaw Amendment Land Use 18-020
Land Use Bylaw Amendment: Retail and Production of Recreational Cannabis 18-023
Land Use Bylaw Amendment Rezoning 18-026
Land Use Bylaw Amendment Rezoning 19-002
Land Use Bylaw Amendment Rezoning 19-007
Land Use Bylaw Amendment Rezoning 19-013
Land Use Bylaw Amendments (Variances) 19-015
Land Use Bylaw Amendments (Cannabis Cultivation and Production in Agricultural District) 19-023
Land Use Bylaw Amendment Rezoning 19-025
Land Use Bylaw Amendments 20-001
Land Use Bylaw Amendments and Rezoning 20-006
Land Use Bylaw Rezoning 20-020
Land Use Bylaw Rezoning 20-022
Land Use Bylaw Rezoning 20-024
Land Use Bylaw Amendment 20-027
Land Use Bylaw Rezoning from Ag District to On-Site Estate Residential District 1 20-028
Land Use Bylaw Amendment Rezoning 21-001
Land Use Bylaw Amendment 21-003
Land Use Bylaw Rezoning 21-009
Land Use Bylaw Amendment Arterial Commercial District 21-011
Land Use Bylaw 21-014 and Schedule A - Encroachment on Environmental Reserve Lands
Land Use Bylaw Amendment 21-030
Land Use Bylaw Amendment 21-033
Land Use Bylaw Amendment 22-010
Land Use Bylaw Amendment 22-011
Land Use Bylaw Amendment 22-015
Land Use Bylaw Rezoning 22-036
Land Use Bylaw Rezoning 22-037
Land Use Bylaw Rezoning 22-038
Land Use Bylaw Rezoning 22-039
Land use Bylaw Rezoning 23-016