Following direction from Council, the Main Street Lac La Biche Revitalization concept plan has been revised.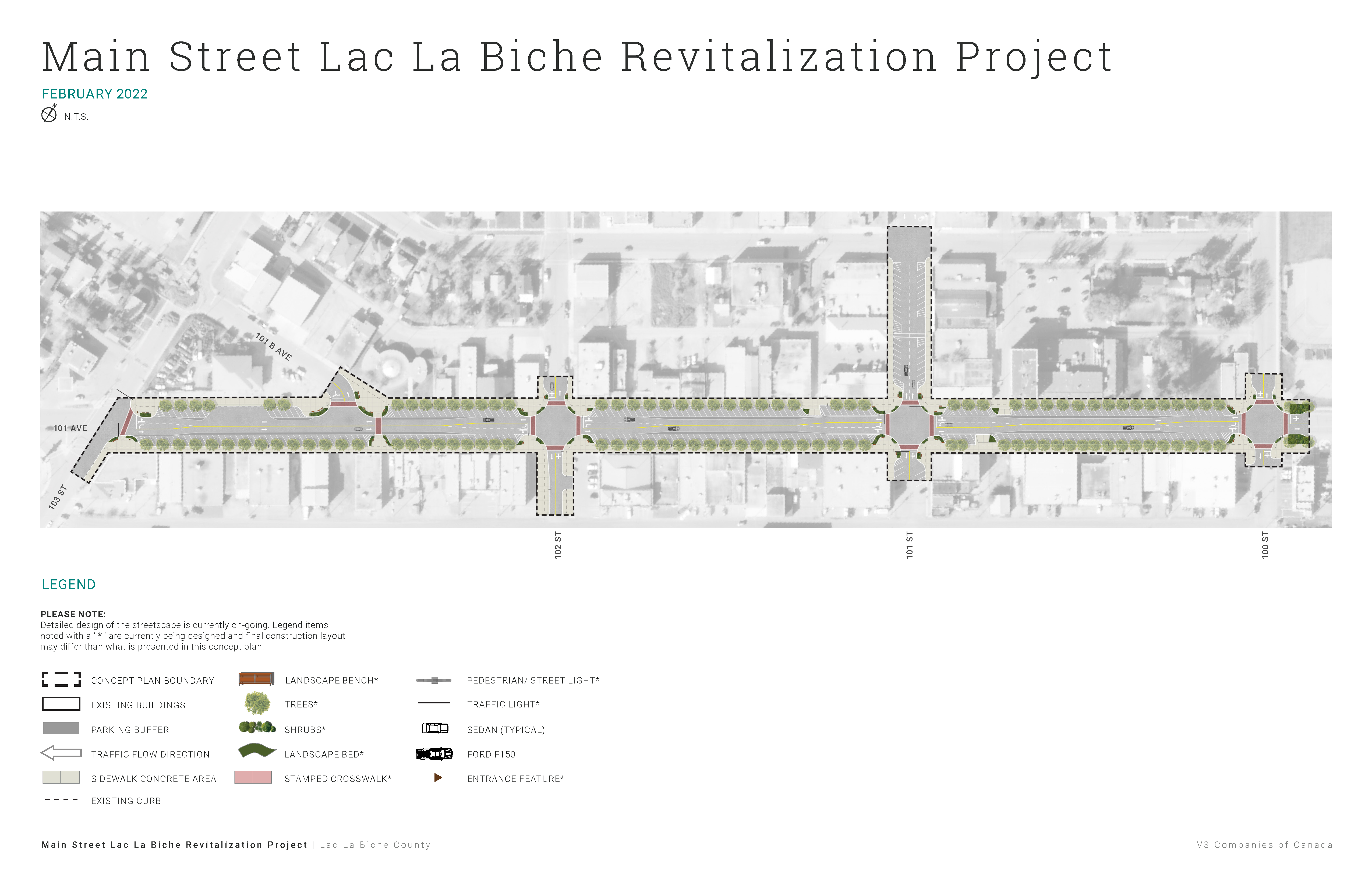 To view a larger version of the above design, click here.
While detailed design is currently completed, key changes include:
Keeping the sidewalk width effectively the same, while increasing it at intersections to improve pedestrian safety;
removal of a proposed cross walk; and
retaining the 60 degree parking angles.
The concept plan also includes lefthand turn lanes at each intersection to allow for the smooth flow of traffic. Exact locations of streetscape elements like waste receptacles, benches, landscape beds, stamped pavement etc. are currently being fine tuned, and subject to change. Stay tuned for more updates as the detailed design unfolds and we get closer to the 2022 construction season.
General Project Information
As we draw closer to the start of construction, our primary focus will be to limit disruption to properties and businesses along Main Street during construction and proactively communicating with businesses, landowners and residents on the anticipated timelines, road closures and traffic accommodations, and what they can expect as the project unfolds.
You will see increased activity from our project consultants – V3 Companies, Challenger Geomatics, EDS Group, Shelby Engineering, and Basin Environmental – in and around Main Street. With their "boots on the ground", they will be assessing the Main Street to ensure data, measurements, and their overall understanding is spot on, so that the detailed design is as accurate as possible, avoiding delays down the road.
And with that in mind, you may have some consultants asking to gain access to your properties to look at where your utility connections are and to ask questions about the history of your property. This is part of the detailed design process, having insight about your property now will allow for more efficiency when it comes to construction.
These consultants will usually be accompanied by a representative from the County, and if they aren't, they will identify themselves as being part of the Main Street Lac La Biche Revitalization project team.
Please check back with this webpage for updates as the project moves forward, or complete the Contact Form below to have updates sent directly to you. If you have any questions about this work please feel free to contact our Engineering Services Department.
Engineering Services:
Ali Memon, Manager
780-404-6869
SEND EMAIL