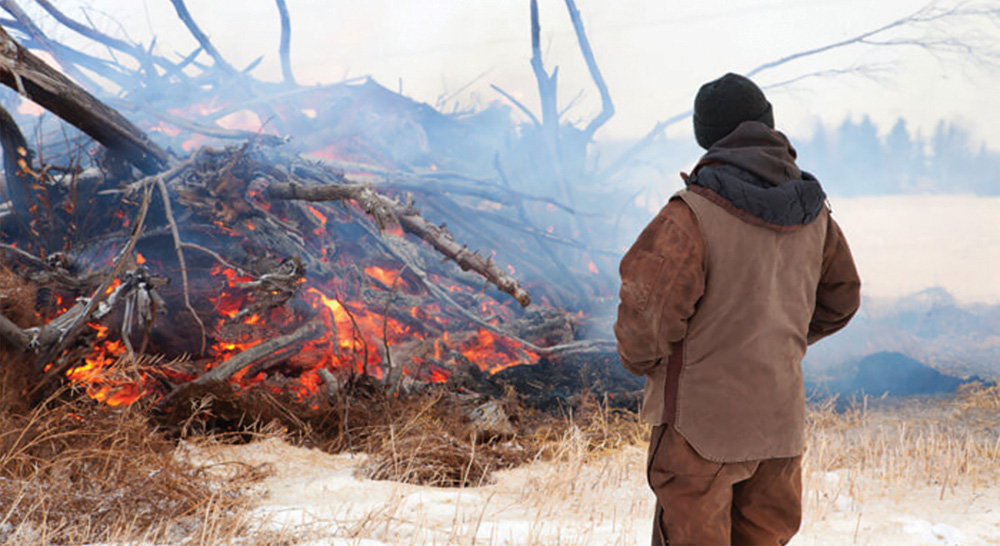 Double checking your winter burn sites is an important wildfire prevention step. Winter burn fires are also referred to as "Zombie fires" because they can come back to life in the spring when hot embers deep inside the burn site are renewed by warmer temperatures and wind. Wildfire hazard conditions are usually at their highest in spring before rains arrive and foliage begins to green up.
Help prevent wildfires by following these simple steps:
Safe Burning Practices
• Never leave your fire unattended.
• Only burn what you can control and follow the conditions of your permit.
• Have your fire permit ready to present if requested.
• Watch for sparks and burning material that may result in smaller fires. Larger fires can send these sparks over several kilometres, especially when burning in the wind.
• If the wind is gusting over 15 km/hour or increases beyond the limit on your permit, immediately extinguish your fire.
• Have the tools and equipment listed on your permit.
Brush Piles & Windrows
Brush piles and windrows are commonly used to burn woody debris from land clearing for agricultural and development purposes. Lac La Biche County and Alberta Wildfire can advise you on how to construct your burn site so it meets the guidelines for safe burning practices required for your fire permit.
Getting a permit
A fire permit explains safe burning practices that will help prevent your fire from becoming a wildfire. It is required for all fires, except campfires, in the Forest Protection Area (FPA) and within the municipal boundaries of Lac La Biche County.
Fire permits are free and are required from March 1 to October 31 in both the Forest Protection Area and Lac La Biche County.
County Fire Permits - If the fire location falls within Lac La Biche County click the link below to fill out a request form. For more information about County fire permits call (780) 623-6767. Lac La Biche County follows provincial hazard restrictions when issuing burn permits.

Provincial Fire Permits - For more information about obtaining a Province of Alberta (Agriculture & Forestry) fire permit call - (780) 623-5388.
Permit Cancellations
Fire permits may be suspended or cancelled if the fire hazard in the area changes. In these situations, the permit holder will be notified and must immediately extinguish all fires. In the event of a fire ban or restriction, all fire permits can be suspended. This pertains to locations within the Forest Protection Area and the County.
Fall and Winter Burning
Fire permits allow our staff to know where burning is approved so firefighters and aircraft are free to fight wildfires. They are not required in winter, however following safe burning practices during this period will help prevent holdover fires that can start spring wildfires. Although the snow helps reduce the risk of the fire burning into the ground, it is recommended that you check all fall and winter burn sites to ensure that the fire is out. Walk the burn area and roll over any debris to check for hot spots.
Agricultural Burning
Follow these steps if conducting agricultural burning:
Monitor Your Burn

-

If conducting agricultural burning, don't leave the field while it's burning. Burn small areas at a time and have a plan to deal with any emergencies.

Have a water truck and other equipment on hand.

Till the outside borders of the field to create a fire break. Monitor the site after your burn and check for hot spots that may remain.
Consider reducing the scale of the burn.

This can be accomplished by baling the un-harvested crop or straw, and removing it from the field. Burn the bales away from your field in a smaller, controlled area. This is easier to monitor and manage than burning swaths in a field.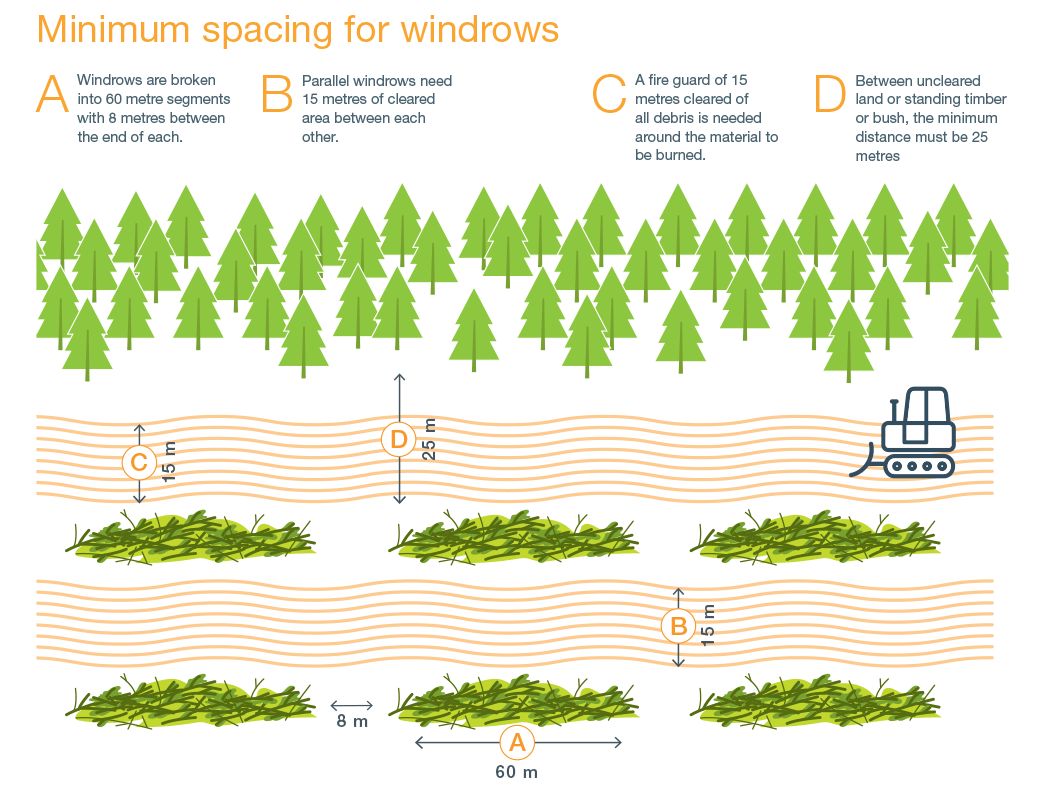 (image courtesy of Alberta Agriculture & Forestry)
Are You Financially Protected?
Make sure you have sufficient property insurance in the event that your fire gets out of control, or spreads to neighboring land. If you are found responsible for starting a wildfire, you can be charged under the Forest and Prairie Protection Act.
Costs associated with non-negligent incidents are covered by the County. Call 9-1-1 for all emergencies.
Burn Site Assessments - Thermal Imaging Camera
Lac La Biche County Protective Services can help you assess your winter burn site for safety. Prior to the arrival of spring you may contact Fire Services at 780-623-6774 to schedule a free assessment of your burn site with a Thermal Imaging Camera (TIC). This is a double-check for hot embers that may remain deep inside the burn site.
Fire Smart Assessments
Lac La Biche Protective Services can help add another layer of protection to your property by conducting a free Fire Smart assessment.
Trained inspectors look at rural properties that have direct interface with the forest and recommend ways to reduce the danger of a wildfire starting and spreading on it. The recommendations are based on a Wildland-Urban Interface Plan that analyzes hazard risk levels and identifies areas of concern.
Free FireSmart assessments can be requested online by submitting an electronic request form. To help deal with woody debris, the Fire Smart program also offers free wood chipping for residents of Lac La BIche County.
Do Not Burn Garbage
Burning garbage can harm you and the environment. Toxins (dioxins, furans) are released into the air as smoke and can enter the soli substrate as run-off while the material is burning. Did you know …..Animal manure, pathological or biohazardous waste, non-wooden material, wood with preservatives, combustible materials from vehicles, tires, rubber, plastic, used oil, and painted wood or paint products are illegal to burn. It is against the law to burn waste in Lac La Biche County.